For those who come seeking a glimpse of rare birds or for those who just enjoy being outside in the midst of nature and all its beauty, you will find it all here in Mitchell County! One of the best kept secrets of Mitchell County is the fact that we are home to some of the best birding in the state of North Carolina. With many species of birds and easy access to birding trails, our County will leave you coming back for years to come.
You can start your birding trail adventure at Riverside Park in Spruce Pine. Riverside Park is a part of the North Carolina Birding Trail and will not disappoint in regards to the various types of birds that live in the park. This paved walking path that runs beside the Toe River stretches for approximately .5 miles and there will be plenty of birds to spot along the way. Just a few of the species of birds that visitors typically see on this trail include Spotted Sandpipers, Eastern Kingbirds, Cedar Waxwings, Rough – winged Swallows, Baltimore Orioles and more! These birds typically live in woodland and river areas, making Riverside the perfect dwelling place for these birds. After you are finished birding on this trail, cross the bridge to downtown Spruce Pine and grab some lunch or an ice cream at any of our local restaurants! Spruce Pine's Riverside Birding Details from the NC Birding Trail.
Along the winding roads of Bakersville, you will find the beautiful Roan Mountain, which is a bird lovers dream. With lots of lush greenery for the birds to nest and hide in, you will find many species perched in trees around the hiking trails. According to Audubon.org, Roan Mountain is considered an important Bird Area, and has 188 species of birds, with 31 of those being high priority species. Some of the very interesting species you may see on a typical day in Roan Mountain include Saw-whet Owls, Magnolia Warblers, Brown Creepers, and Golden-crowned Kinglets. These species can be spotted at various times throughout the year, but spring and fall migrations are typically the best time to spot the most birds. Not only is Roan Mountain home to many species of birds, it is also home to great hiking and breathtaking views.
Bakersville's Creekwalk in Downtown Bakersville is another spot on the NC Birding Trail. This 1-mile greenway system runs through the town of Bakersville along Cane Creek, past open fields, wooded areas and managed areas with picnic tables and overlooks for fishing. The riparian corridor is narrow with dense vegetation in many places, and hosts Yellow Warbler, Orchard and Baltimore Orioles, Cedar Waxwing and Song Sparrow during the breeding season. In spring and fall, check for migrating songbirds, including Louisiana and Northern Waterthrushes, Common Yellowthroat, Indigo Bunting, and Red-eyed and Blue-headed Vireos. Black-throated Green and Tennessee Warblers, Scarlet Tanager, Chimney Swift and Red-tailed Hawk are common here, as well. While parked at the Bowman Middle School parking area, you may cross the road at the crosswalk into a shrubby field that follows the creek. This town property is available for birding and has dense cover for Common Yellowthroat, Indigo Bunting, Orchard Oriole, Willow Flycatcher and a variety of other species. Be careful crossing the road.Bakersville Birding Details from the NC Birding Trail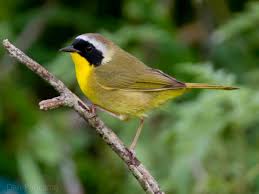 Another local birding trail that will allow visitors to see a stunning array of birds is at Crabtree Meadows. This 2.5 mile looping trail is located at Milepost 338.8 on the Blue Ridge Parkway and is accessible by Spruce Pine. This trail features a variety of interesting species of birds including the Eastern Meadowlarks, Least Flycatchers, Red-headed Woodpeckers, Common Ravens, Canada Warblers and Black-throated Green Warblers. There are various habitats at Crabtree Meadows where different species of birds can be found, including forests, bogs, and wetlands. There are also campgrounds nearby for outdoor lovers that are both tent and RV friendly. Before or after your birding adventure, be sure to pay a stop at some of local shops or restaurants in Little Switzerland on the Blue Ridge Parkway.
Local inns are joining in as bird lovers as they make changes to their landscaping practices to create new bird habitats. Read the Audubon article here about local Airbnb owners at BirdTown Guest House.
So bring your binoculars, hiking shoes, and sense of adventure and get ready for a fun-filled trip of spectacular birds, friendly people, and an atmosphere of relaxation and community that will make you want to stay forever.